Vinnie's Cholecystectomy
Vinnie is a beautiful 8-year-old male border terrier who presented with vomiting. Poor Vinnie was unable to keep any food or water down and was struggling to pass poo.

He came in to see Rosa in March who did a full clinical examination.
His abdomen (belly) was very tense around the area where his liver is located and blood tests were run which revealed raised liver enzymes.

Raised liver enzymes identify a problem with the liver but not specifically what problem, it could be issued with bile movement or damage to the liver cells. Further investigation was needed at this point.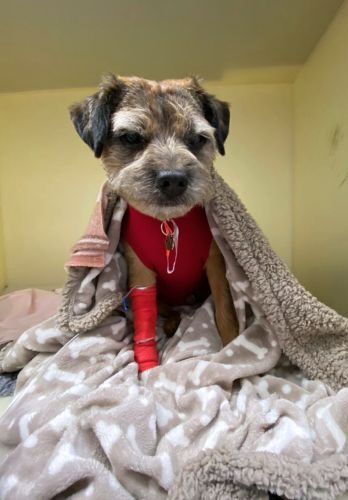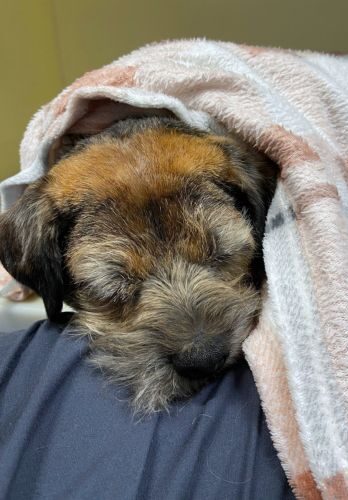 Further Investigation
Rosa then proceeded to perform a full abdominal ultrasound on Vinnie. This enables us to look at the soft structures within the abdomen that cannot be seen by x-rays. During the ultrasound, she noted that Vinnie's gall bladder contained a mucocele which is extremely thick, mucous-like bile that cannot pass to the intestines normally.

A normal gall bladder contains bile, which is a yellow liquid that helps to break food down during digestion. In Vinnie's case, no bile was able to pass from the gallbladder to the intestine to help with digestion. If left, it could rupture which would be incredibly painful and could have caused him to die.

Gallbladder removal (or Cholecystectomy) was indicated when medications did not help to break down the mucocele and his liver parameters did not improve.
The Surgery
The surgery was performed laparoscopically (keyhole) by Gary. Using three ports and inflating Vinnie's abdomen with carbon dioxide, Gary was able to use laparoscopic instruments to push the liver lobes out of the way to visualise the gallbladder.

Firstly, Gary had to dissect around the neck of the gallbladder to be able to separate it from the liver. He then placed laparoscopic clips on the neck of the gallbladder to 'ligate' it, to ensure that no material inside the gallbladder could go into the abdomen. After this, the gallbladder was completely dissected away from the liver using a blunt endoscopic instrument (so it did not damage the liver).

Once the gallbladder was completely free, Gary cut between the clips that had been placed and manoeuvred the gallbladder into a laparoscopic bag inside Vinnie's abdomen before pulling it out through one of the ports.

Vinnie ended up having three very small incisions (5mm each) whereas standard open surgery would have resulted in a much bigger incision which would have been more painful in healing.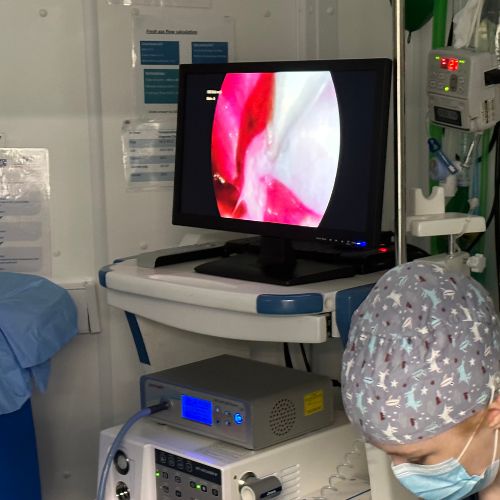 Recovery
Vinnie has recovered very well, and it was so lovely to see him come trotting in to the practice feeling so much better!

We are thrilled that Vinnie is no longer suffering and we are all so proud of Vinnie.
If your dog is showing signs and symptoms of those Vinnie had, please book a consultation with us.
CONTACT