Nurse Clinics
Our veterinary nurses run clinics to help you keep your lovely pets healthy and offer services such as checking your pet's weight, dental checks and much, much more!
Here For You Every Step Of The Way
If you bring your pet into the practice for a procedure, our veterinary nurses will be there for you every step of the way.

Our nurses are usually the first to admit your pets for investigations or surgery. They are the ones who will talk you through the treatment, support you and address any concerns you might have. They will provide comfort and reassurance to your pet during the hospitalisation stage of the treatment and ensure your pet is calm and comfortable.

Our nurses will help our vets with anything from IV catheters, to taking blood samples and assisting with radiography and ultrasounds. If surgery is needed, our nurses will prepare your pet for surgery, monitor anaesthetics, provide information to the vet, and assist with the surgery when required.

After surgery, they will nurse your pet through their recovery while ensuring they are always calm and comfortable. They will also continue supporting you by being there to answer any questions you may have.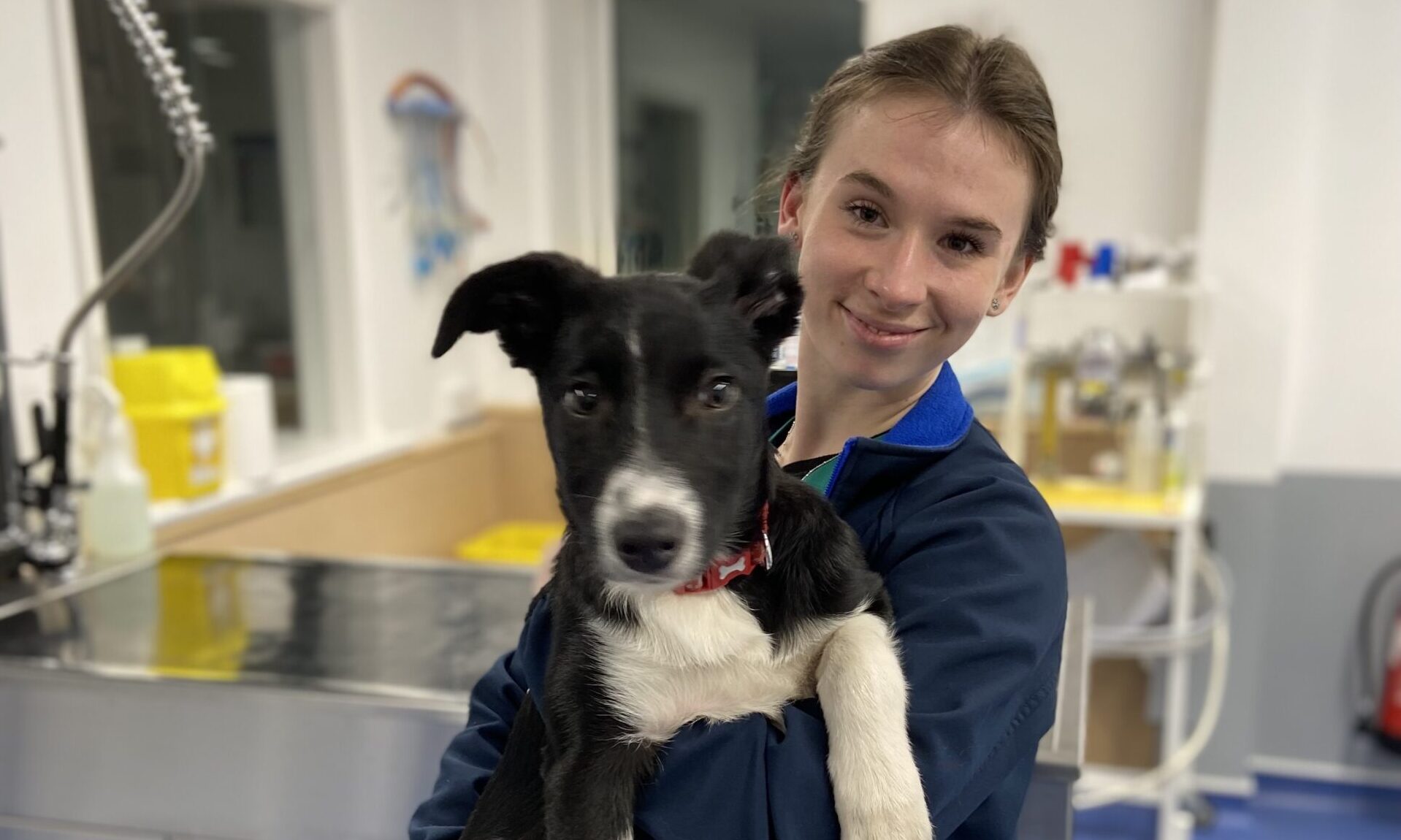 What Is A Veterinary Nurse?
Veterinary nurses are professionals who have academic and practical qualifications. Much like vets the veterinary nursing profession is governed by the College of Veterinary Surgeons and nurses are required to carry out studies throughout their careers so that they stay current with the latest knowledge and skills.

Behind the scenes, nurses perform a series of important tasks, such as monitoring pets under general anaesthesia, inpatient care, performing lab tests, taking X-rays and providing support in the theatre.

What you may not know, is that veterinary nurses also offer consultations with you and your pet to help you manage long-term conditions such as arthritis, and chronic conditions and perform minor procedures including nail clipping, and vaccinations, and help your pet keep a healthy weight.
What Nurse Clinics Do We Offer?
Our team of nurses all have particular areas of interest and we have clinics available that provide support and treatment for many areas of pets' health and wellbeing.
ROUTINE CLINICS
Our nurses are able to give second vaccinations, apply spot-on treatments and administer oral medications, topical ear and eye drops, or give injections at the direction of a vet as well as demonstrate how to medicate your pets so you can do it at home if you wish. They will also clip nails, express anal glands, ear cleaning, ear plucking, take blood pressure readings, reapply bandages, take blood samples, remove stitches, clean wounds, remove matted fur and perform post-operative checks for routine surgeries.
PARASITE PREVENTION CLINIC
Our nurses can help protect your pet from picking up infectious diseases and parasites. They can administer second vaccinations, once a vet has examined your pet and given the first vaccination of a primary course. They'll help with parasite prevention, by providing flea checks and weigh-and-worm consultations.

If it's difficult for you to administer anti-parasite products, our nurses are happy to help with this too!
LIFE STAGE CLINICS
Our nurse clinics are here to help and advise you throughout the entirety of your pet's life. From puppies/kittens to teenagers, adults and seniors, our nurses can provide support throughout your pet's life journey.
WEIGHT & DIET MANAGEMENT CLINICS
We can provide a realistic weight-loss plan, help with nutrition, advise on appropriate exercise and activity levels, and we can set up regular monitoring to ensure your pet reaches and maintains its ideal healthy weight.
DIABETES CLINIC
Diabetes is a chronic disease, which can be difficult and costly to manage in our companion animals, with serious consequences if they become unstable. We offer Diabetic Veterinary Nurse Clinics as an affordable way to closely monitor your pet's condition, in between their routine checks with the vet. Our nurses can check their weight, discuss diet, run a urine test and take blood if required, as well as giving tips on insulin injections and weight control.
ARTHRITIS & MOBILITY CLINICS
This clinic supports those pets with joint disease. The nurses will help with advice on medications, supplements, home care and any questions you may have. They can do the routine blood tests that are required for your pets to be on certain medications as long as you have seen a vet within the year. They can also advise as to helpful diets and complementary therapies such as physio.
DENTAL CLINICS
Keeping on top of your pet's oral hygiene is very important. Good dental health improves your pet's life quality and can save you money in the long run. Our nurses can examine your pet's mouth to check for signs of gingivitis, periodontal disease, fractures, retained milk teeth and more.
BEHAVIOUR CLINIC
The emotional health of our patients is as important as their physical health and our specialist nurses are a crucial part of the veterinary team when it comes to dealing with behaviour issues.
ALLERGY MANAGEMENT CLINIC
Our nurses play a vital role in improving the life of your allergic pet. Once diagnosed many animals need ongoing Immunotherapy and allergy injections, these can be administered by a nurse who will also monitor their effectiveness and direct you if alternative intervention is required.
BEREAVEMENT COUNSELLING CLINIC
Pets are part of the family and are often our best friends, which is why we understand how difficult coping with the loss of a pet can be.
Our nurses recognise the importance of being able to support and advise you through any difficult times or decisions.
DESENSITISATION CLINICS
Desensitisation is a technique used to change an animal's response or reaction to someone or something of which it is afraid. It involves exposing the animal to whoever or whatever frightens them but in gradually increasing amounts and starting with sessions short enough not to instil fear.
RABBIT/ RODENT CLINICS
If you are confused about what to feed your rabbit/ rodents or have any general husbandry concerns then our rabbits/rodents clinics are ideal for you. We cover all aspects of care including, feeding, vaccinating, oral care, parasite control, bedding and neutering.
Free Nurse Advice
Our amazing, caring, compassionate nurses allow us to provide our clients with free pet advice, across a range of pet healthcare topics.
BOOK AN APPOINTMENT
Gemma Sankey
Head Nurse – RVN